Hi everyone,
I am trying to visualize the Mesozoic-Cenozoic plate boundaries from the Muller et al 2019 publication back in time. I am focussing on ridges. When I rotate the plates I get structures in the resolved topology that are linear and seem to be "artificial". Sometimes, they are part of additional (micro-)plates that already have been subducted, sometimes they are part of the larger plates.
Is there a way to visualize only the plate boundaries, i.e. only the ridges, without these structures, like it is shown in the pyGPlates reconstruction? Or am I using the wrong data set?
Here is a screenshot that maybe better explains my issue (rotated to 25 Ma, Top: pyGplates reconstruction, bottom: my case):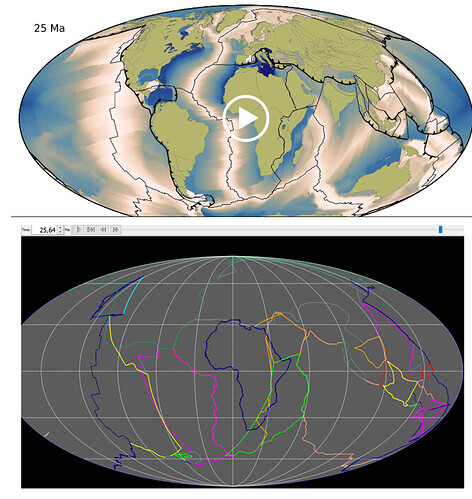 I am using GPlates 2.2.
Best regards,
Peter